I am not one of those women who was born with the amazing ability to organize every space in my home until it is sparkling, to decorate every nook and cranny until it looks like a magazine. I oh so wish I could be like that. So, every so often I try to re-motivate myself to give the organizational thing a try again. I'd like to think I get one step closer to a smoothly functioning home each time I try. I might even have an impeccable house...just in time for me to have kids! Ha!
Luckily, there are a lot of great resources out there to help those of us looking to improve our nesting skills. I came across a great site last night that has me all sorts of pumped up about re-organizing our house.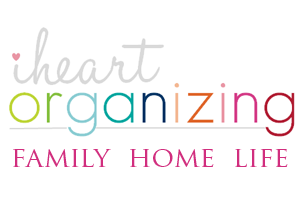 IHeart Organizing has so many great tips and I just love how she has decorated and organized their house. The before and after shots really let you see that any space has the potential to be great. Jen also offers some great free printables. And can we really have too many printables?
I am also dying to buy the pages for a family binder from her Etsy shop. Look how great they are!
I hope you'll take a look around the site. Maybe it will give you the same pre-Spring cleaning jolt of motivation that it gave me.